OK. The Grammys maybe weren't the gayest. But we still had fun reviewing last night's moments to compile this list. From red carpet looks to acceptance speech reads – we have 7 ways the Grammys (sort of) went gay this year.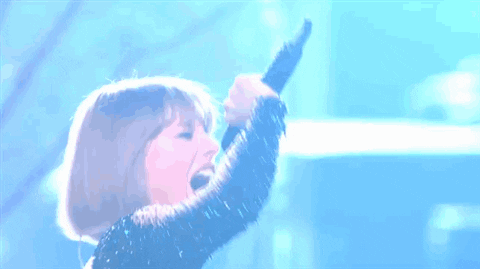 7. Taylor Read Kanye
Taylor Swift used her acceptance speech for Album of the Year to hit back at Kanye West, whose recent album includes shady lyrics about the pop star – taking credit for her fame and calling her a b*itch.
"I want to say to all the young women out there: There are going to be people along the way who will try to undercut your success or take credit for your accomplishments or your fame," Swift said while she accepted the award for her album 1989. "But if you just focus on the work and you don't let those people sidetrack you, someday when you get where you're going, you'll look around and you will know that it was you and the people who love you who put you there. And that will be the greatest feeling in the world. Thank you for this moment." Thunderous applause everywhere.
6. Sam Hunt Wore Pink
Proving real men wear pink, country musician Sam Hunt showed up donning this pink get up. He may not play for our team, but that suit sure does.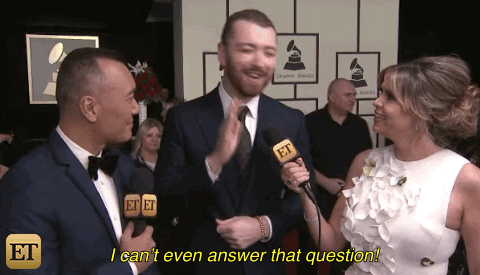 5. Sam Smith Showed Off His Body
Although he wasn't nominated this year, four-time Grammy award winner Sam Smith was there showing off his dramatic weight loss. "I've just not eaten like a pig anymore – that's what I'm doing, basically," the 23-year-old singer – looking sharp in a shapely, dark suit – told CBS.
4. Lady Gaga Slayed On The Red Carpet
Lady Gaga is known for her flamboyant looks on the Grammy red carpet and this year she didn't disappoint. She took to the red carpet in a deep blue, bejeweled dress that slit up to her thigh with fiery, reddish orange hair. The best part were probably the shoes. Drag queens everywhere died.
3.  Todrick Hall Showed Up in Gwen Stefani's Live Video
Out and proud social media star Todrick Hall made a cameo during Gwen Stefani's live 4-minute commercial and video shoot for her song "Make Me Like You" sponsored by Target. During the live music video, Hall tended a bar significantly called "Blake's." He also hosted some fun videos on social media before the taping, giving audience members a glimpse behind the scenes of the process. 


2. Lady Gaga Paid Tribute To Bowie
This is the year of Gaga. Mother Monster is still reeling from her fantastic Super Bowl performance, she recently won a Golden Globe for her role on American Horror Story: Hotel and she is nominated alongside Diane Warren for Best Original Song at the Oscars. When it was announced that the longtime LGBT advocate would be taking the Grammys stage to honor the late great David Bowie – fans were super excited. She began the medley with a trippy video performance of a "Space Oddity," and continued with Bowie hits "Suffragette City," "Rebel Rebel," "Fashion," and "Fame." She ended it all belting "Heroes" out impeccably, with Bowie's iconic image projected high above her.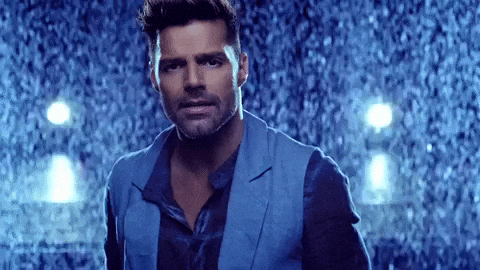 1. Ricky Martin Won
Nominated for Best Latin Pop Album, Ricky Martin took home the trophy for his album A Quien Quiera Escuchar. The out Puerto Rican pop star and father of two showered his Twitter with joy. "YES! Today we won the Grammy for Best Latin Pop Album. So thankful for everyone involved @thegrammys," he wrote on his social media platforms.